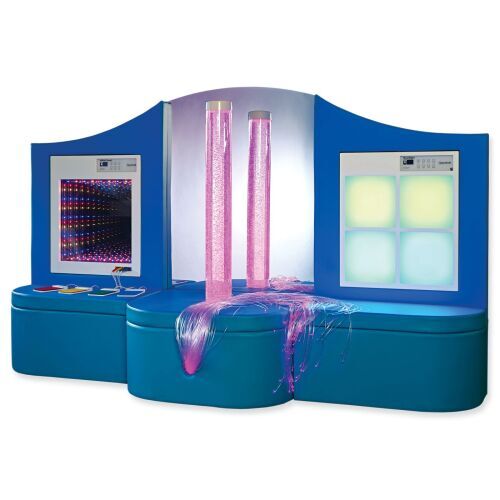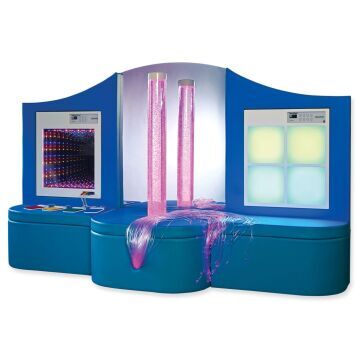 Sensory Room Package
Product Code - 57512

Turn any space into an interactive multi-sensory environment with the Wilkins International Interactive Sensory Package which features:
LED Interactive Infinity Tunnel
Interactive Moodlight
Fibre Optic Sideglow
1.5m Bubble Tube & Mirror.

The clever design also provides seating and storage for your additional sensory resources and can be manufactured in any one of our 14 colour options.
Size: H1800mm x W2950mm x D775mm.

The LED Interactive Infinity Tunnel offers users total control over a never-ending tunnel of ever-changing coloured LED lights, using switches to effect lighting changes in the tunnel. For use by up to four pupils, each with their own switch, the LED Interactive Infinity Tunnel encourages awareness and develops communication skills.
Operates 15 different programmes:
Automatic Sequence with Speed Control
Manual Sequence: press any switch
Four-Colour Build-Up: press any switch
Momentary Single Colour
Latched Build-Up
Momentary Build-Up
Automatic Sequence with Speed Control
Momentary Full Colour
2 LED Manual Sequence
3 LED Manual Sequence
3 LED Automatic Sequence with Speed Control
Automatic Colour Cycle Sequence with Speed Control Includes 4 x Slimline Switches.

The Interactive Moodlight illuminates with four vibrant squares of light which can operate independently or together to create a stunning range of different colour combinations.

1.5M BUBBLE TUBE & MIRROR The 1.5m Bubble Tube provides a gentle colour change through a column of effervescent water - touch the tube and feel the vibrations of the bubbles.

Bubble Tubes are at the heart of any multi-sensory environment, gaining attention and inspiring interaction through the constantly changing colours and moving bubbles. Bubble Tubes have many benefits and can be used to aid visual stimulation, develop cause and effect skills, understand colour sequencing and/or colour matching, and encourage touch through vibration as well as many other themed activities.